If you want to get a training horse lined get on the schedule!
A new era dawned with the arrival of our first foals from the new Double K Ranch breeding program! As the horse operation matures into this new phase, we get to have the joy of sharing with the world some of the best, most dependable temperaments we've found in all our years of training outside horses as well as the many horses the ranch has owned. This gives us a unique perspective when selecting mares, and they have to be truly outstanding to deserve a place in the pasture!
In addition to great attitudes and workability, we're thrilled to have pre-programed some color onto the outside of these terrific dispositions, to make a ranch horse package that will both perform correctly, safely and with savvy, but also look stunningly good while doing it.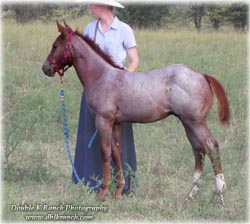 ~ Strawberry Cowboy ~ SOLD to Michigan!
Our first two foals (a blue roan, and a strawberry roan) are both boys; these two cousins really took after their moms... blue roan sisters to "Rip Romp Terry" (watch video!) highselling horse at Superior Auction's live sale on RFD TV 2014. These two colts will be just like him, with that lovely "do anything" temperment and trustworthiness.
We enjoy working with our horses, & take pride in how well they learn, from halter breaking youngsters, building a strong foundation of good manners, starting a colt under saddle, overcoming shyness or fear, taking a bit or handling a hackamore, to trimming hooves and fitting shoes.
Training must be built on trust and respect.
Our greatest compliments come from our clients, and we love to hear the things they have to say about our horses.